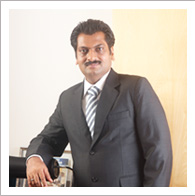 Architect Vivek Bhole, considered as one of the leading architects in Mumbai is the principal of M/s Vivek Bhole Architects Pvt. Ltd. which has been established more than a decade ago.
Vivek has made his mark in the Mumbai skyline as a result of his hard work and architectural designs.
His team comprises of more than 200 highly talented Architects, Interior Designers, Engineers & other professionals and a spacious office premise of 50,000 floor space in one of prime commercial area in MIDC Andheri.
Vivek's success mantra is "Only sheer hard work, dedication, ingenious vision and out of the box thinking". His team of professionals is his creative hub, are ready to cater to individual client's requirements of high complexity & provide value added services to each client within specified deadlines & budgets.

With over 15 years of design experience, Vivek provides the firm with senior leadership and design talent. His core leadership qualities guide the company's long-term strategy and daily operations. A strong and skilful entrepreneur, he has played an integral role in guiding the firm's expansion and ensuring that the highest standards of coordination, technical innovation and design quality are maintained.
Ar. Vivek Bhole experiences architecture through his life. He travels worldwide & studies architectural marvels to be implemented in his designs as per the client's requirements.

For more than a decade, Vivek has incorporated an integrated approach to design that combines function, beauty and the environment. He is strongly committed to quality, professionalism and integrity. Architecture is woven into every aspect of his life.

Though being an entrepreneur at heart he believes architecture is a team sport. The firm is supported by the expertise of dedicated professionals like Architects, Interior Designers, Engineering, Consultancy, Municipal Liasioning, Graphic Designers, Revit Designers working in synchronization to provide the desired output.

In the architectural era, when international architects have already monopolized the high end retail, commercial and hospitality design, Vivek enjoyed the reputation of an equivalent alternative to international architects. His work is being compared to the finest international designers practicing in Mumbai.
The firm has also won the prestigious Bloomberg International property awards for multiple years awards in best architecture and design category for the design of one of the prime high rise residential project in Mumbai "One Avighna Park" in Asia Pacific category and nominated for global awards competing amongst leading international architectural firms.